The Wishing Spell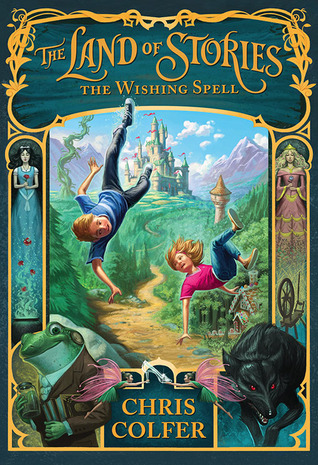 Chris Colfer
Little Brown
July 17, 2012
438 pages
Golden Globe Winning Actor. Time Magazine's 100 Most Inspiring People. Screenwriter. Producer. Now a New York Times Bestselling Author. What can't Chris Colfer do? The Wishing Spell  is the first book in Chris Colfer's debut middle grade series. I had decided to pick it up because of my love for Glee and of course Kurt Hummel (played by Chris Colfer). It was an enjoyable read however I found that it was a little predictable and repetitive. That being said, it had a whimsical setting, unforgettable characters, and beautiful themes.  Chris Colfer's first middle grade book was definitely a success.
Following the death of their father a year earlier, twins Alex and Connor are in no mood to celebrate their twelfth birthday. However when their grandmother gives them The Land of Stories, a beloved book of fairytales, Alex and Connor are introduced to whole new world.
The Wishing Spell was so much fun to read. With its funny dialogue and its unique setting I enjoyed every minute of reading this book. The best part of this story was probably the setting. Each place the twins adventured to was very well described and easy to picture.
The characters were another strong point in The Wishing Spell. Alex was a smart and witty character. She cared for her brother and was confident in herself. Connor was a headstrong character that had a very nice development. In the beginning he did not think much of himself. As the story progressed, however,  he began to realize how smart and talented he truly was. All the side characters the twins meet on their adventure were also interesting. Some of the stand out side characters that the twins meet for me were Froggy, Goldie, Jack, and Red Riding Hood. I really hope that in the next book we see more of those characters. The most interesting character for me though was the Evil Queen. Her motives were clear by the end and I truly did sympathize with her. The characters in The Wishing Spell were interesting and realistic.
The one fault this book had was that it was very predictable, I had seen almost all the plot twists coming from very early on. I also found the plot to be slightly repetitive. Alex and Connor figure out what item they need to find. Alex and Connor find and steal item. Alex and Connor get chased out of whatever land they stole the item from. The solutions to the problems all seemed way too easy. I actually found that I was more interested in the sub plots then they main plot.
Overall I enjoyed The Wishing Spell by Chris Colfer. Both the setting and characters were great even though the plot was slightly lacking. I will definitely be picking up the next book in this middle grade series. What did you think of Chris Colfer's debut book? I would love to know.