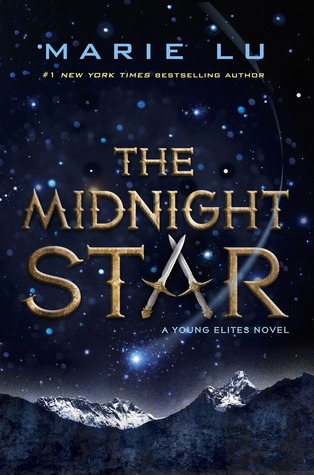 The Midnight Star
Marie Lu
Penguin Teen
October 11, 2016
314 pages
I went into The Midnight Star with high expectations because I have loved all of Marie Lu's books. Unfortunately I was very disappointed by the conclusion to the Young Elites trilogy. I found it to completely unrealistic, and way too short.  The Midnight Star was a disappointing read.
The Midnight Star takes place one year after the events of The Rose Society. Adelina is the queen of Kennetra, and is ruling her people harshly. All the unmarked people are persecuted, and the marked are honored. Throughout her success, however, Adelina is still suffering. Voices fill her head, her traitorous sister is dying, and all the Elites are slowly diminishing.
The biggest problem with The Midnight Star had to do with the plot. As a whole, the book was way too short to be a series conclusion (just over 300 pages!), and it progressed way to quickly. Everything happened too fast, except for the last few scenes that dragged on forever. The plot was also completely different in this third book then in the first two books. This was not exactly a problem, however since this book was so short, the plot was not fully developed. This made it seem weaker. Overall the plot of The Midnight Star progressed to fast and was not very strong.
In The Young Elites and The Rose Society, the characters were pretty well developed and interesting. In The Midnight Star, however, I found that all the characters were shoved away and it was the Adelina and Magiano show. My favorite characters from books one and two (Enzo and Teren) seemed really flat. Throughout this series, Adelina has been spiraling down and getting darker and darker. Since she is the narrator, this makes the story seem really dark. I have to applaud Marie Lu for having the guts to write such a dark protagonist. I do, however, wish we saw more of Adelina's soft side (besides at the end).
This is one of those Young Adult series that doesn't need romance. Adelina is a strong female character that definitely does not need Magiano. On the other hand, Magiano is such a fun character that I could never see wanting to be with Adelina. Their relationship was unrealistic and unneeded.
---
The following paragraph will contain spoilers for The Midnight Star. Read At Your Own Risk.
---
Obviously the conclusion to a Marie Lu series had to be tragic. Three main characters died in this book, and all three deaths made sense (yep that was my favorite thing about this book. The deaths made sense). The first character that died was Enzo. Even though the reasons behind his death made sense, I wish they were explored a little bit more. I also felt that his death scene was anticlimactic. The second character death was Teren. This entire series, Teren has been my favorite character, and I was sad to see him go. I'm glad he made peace with himself, though. Adelina was the final character to die. Even though this felt like a slightly easy route to take, it was still a good way to redeem her of all the horrible things she did and to complete her character arc.
---
Overall, The Midnight Star was not an amazing read. It was executed poorly, and was not even that entertaining. I definitely do recommend picking up the first two books in this series. Since this book is so short, I probably recommend reading it with lower expectations than I had. What did you think of this series and this book? I would love to know.