Scarlet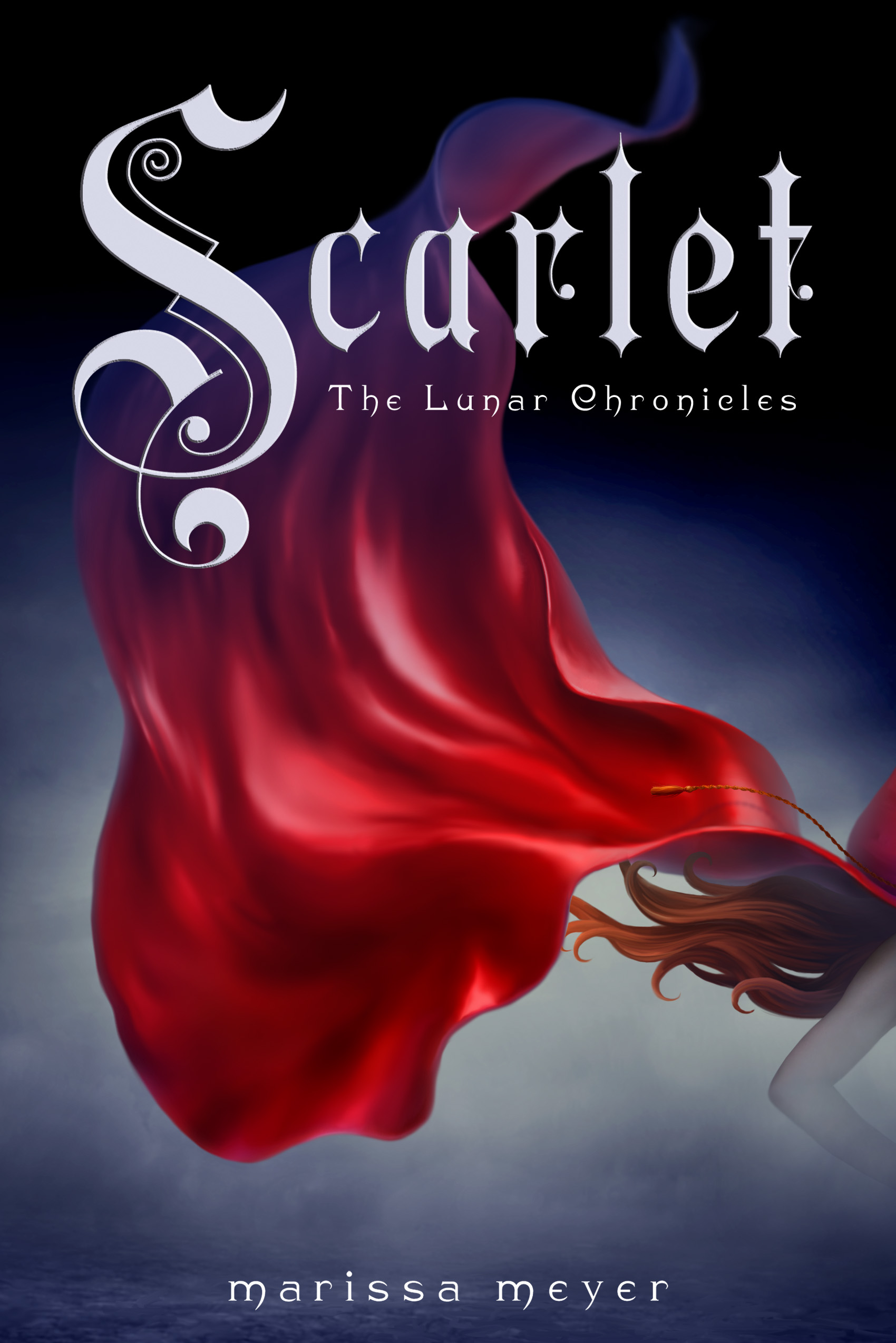 Marissa Meyer
Fierce Reads
February 5, 2013
464 pages
Star Rating: 3.75/5 stars
Why I Read: I couldn't not read it with the amount of hype surrounding it.
Spoiler Rating: Some spoilers for Cinder
I read Cinder about two years ago and it did not live up to all the hype for me. Consequently, I never read the sequel until now, and I'm very glad I did. Scarlet was a really cool and original retelling with likable characters, a complex world, and a fast paced plot. Scarlet by Marissa Meyer is the second book in the Lunar Chronicles, and it definitely did not disappoint.
Scarlet was a retelling of Little Red Riding Hood. It follows a girl named Scarlet who's grandmother had disappeared two weeks earlier. Without the police's help, Scarlet cannot find her, but when a mysterious stranger named Wolf offers to aid her, she reluctantly accepts. Meanwhile, Queen Levana is trying to take over Earth, and when Linh Cinder escapes from jail with Carswell Thorne, she sees her chance.
The Lunar Chronicles is a really cool retelling series. It's plot is very different from the fairy tales that they are based off of, but they have enough references to the fairy tale to make it obvious that it is a retelling. All the elements of the fairy tales are incorporated so creatively, and I am loving it.
Most of the characters in Scarlet were complex, likable, and interesting. Iko was definitely my favorite character. Even though she was just a space ship, she was still funny and loyal. My other favorite character was Thorne. He offered a lot of comedic relief to the story and was a fun companion to Cinder. Cinder's chapters were by far the best because it was interesting to see Cinder deal with her new found Lunar powers. I also liked the Kai chapters. Kai was kind of bland in Cinder, but he was a lot more complex and mature in Scarlet.
The two new main characters in Scarlet were Scarlet and Wolf. Wolf was an interesting character and I think his development in the next books will be really fun to read. Scarlet was feisty, resourceful, and caring. The problem with her character was she did not have much of a personality outside of her desperation to find her grandmother.
In Scarlet there was a little bit of a romance between Wolf and Scarlet. It was a little insta-lovey for my taste, but I still definitely shipped it. I'm excited to see how their relationship will develop in the future.
Scarlet took me a little over a week to read, but that doesn't mean it was boring. This book was reasonably fast paced and the two plot lines were balanced out really well. The over arching Levana plot progressed just enough in this book and was absolutely heart racing. I really wish that Levana had more of a presence in this story and that she had actual motives behind her evilness (instead of just wanting world dominance). I was also not completely immersed in the whole Scarlet plot and I wish the world expanded just a little bit more in this book.
Overall I enjoyed Scarlet and am glad that I gave this series a second chance. This book was a lot better than the first and I would recommend it. I also am going to read the next book, Cress, very soon. Have you read the Lunar Chronicles? Who is your favorite character? What is your favorite book in the series? I would love to know.
Currently Reading: The Enchantress Returns by Chris Colfer
Instagram: @lucysliterature
Twitter: @lucylitblog1456
Goodreads: Lucy's Literature