In the past couple of years, adult coloring books have become more and more popular. These days the citizens of this world who are no longer five can basically color anything. Christmas scenes, beaches, mind games, flowers, animals, and of course YA books. Every Young Adult reader now has the opportunity to color the dazzling blue eyes of some of their favorite fictional characters from a variety of their favorite YA books. Today I will be informing you about all the different YA coloring book options you have.
---
Disclaimer: This post is not a review of all the different coloring books it is simply informing you about the coloring books you can buy.
---
Harry Potter Probably the most well know coloring books for book nerds are the Harry Potter coloring books. At this point there are more Harry Potter coloring books than I can keep track of, but I have the original one (picture above) and the magical creatures book. You can even get Harry Potter postcards to color. The possibilities are endless.
The Lunar Chronicles
The Lunar Chronicles is the series that I'm currently reading, so I would love to color these characters. This coloring book has 46 illustrations and covers all four of the books in the Lunar Chronicles.
Throne of Glass
Though I am not a huge fan of the Throne of Glass series, this coloring book looks gorgeous. Also think of all the sapphire eyes and golden hair you could color. This book has pictures from the prequel to the fifth book.
The Selection

Back when I was a huge Selectioner, I would have probably been all over this coloring book. Now that I am not a huge Selectioner, I am still in love with it because of the pretty dresses and quotes. This coloring book contains pages from all five books in the Selection series.
Red Queen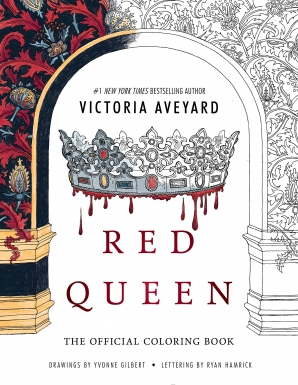 I do not know a lot about this coloring book because I do not know much about Red Queen, but the pictures are all so gorgeously illustrated. This book contains pictures from the first and second books in this trilogy.
Fierce Reads
Fierce Reads gives out these coloring books at different events, and you cannot really buy them. Fierce Reads does, however, have coloring pages that you can download and print from their website (http://fiercereads.com/coloringbook/)
Those are the YA coloring books that have been published. There are a lot of different literary coloring books that are not young adult like Outlander, Game of Thrones, and various classics. You can also color pictures from your favorite fandoms such as Supernatural, Doctor Who, or Hamilton.
Do you enjoy coloring? What are some of your favorite coloring books? What books do you want to have a coloring book for? I would love to know!
Currently Reading: Cress by Marissa Meyer
Instagram: @lucysliterature
Twitter: @lucylitblog1456
Goodreads: Lucy's Literature