March, April, and May have been crazy busy months for me. In between the end of the school year and the dance season, it has been very difficult to make time to read and post. So, I am bringing you an entire season wrap up.
---
Books I Read
Life of Pi by Yann Martel-4.25/5 stars – Life of Pi is a fascinating book that will stay with you long after the last page. It's a book about human nature, and the expectations we have for ourselves and others.
Goodreads: Life of Pi
Roseblood by A.G. Howard-2/5 stars – Roseblood suffered from telling instead of showing. It was said many times how beautiful Rune's voice was, but was never described beyond that. Besides that problem, I found this book to be really boring.
Goodreads: Roseblood
The Curious Incident of the Dog In The Night-Time by Mark Haddon-3.75/5 stars-I really enjoyed reading this book. I loved the plot (and how it wasn't really about the dog in the night-time), and how the numbers were all prime numbers. I also enjoyed the voice and being in Christopher's head. It did start to drag towards the end, but overall it was a lovely read.
Goodreads: The Curious Incident of the Dog In The Night-Time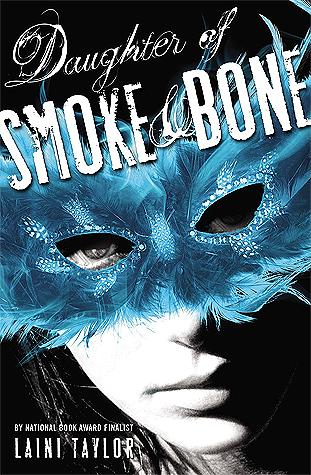 Daughter of Smoke and Bone by Laini Taylor-3/5 stars- Daughter of Smoke and Bone started out promising. Sure, the characters were completely unrealistic and the writing was kind of gimmicky, but the plot was compelling. Then, the second half of this story spiraled into a predictable and poorly constructed love story. I will admit, it was pretty addicting, and I will probably read the next book. It definitely did not live up to the hype though.
Goodreads: Daughter of Smoke And Bone
The Hate U Give by Angie Thomas-3.5/5 stars- The Hate U Give was a powerful and interesting read. It opened my eyes to so many racist issues in our society, which I am thankful. It did try to tackle way to many issues in my opinion however. This book talked about so many different problems in our society, and I felt like it just lost some of the impact. I wish Angie Thomas wrote a book about one or two of these problems and other books featuring some more of the issues she sees and experiences. I did love the characters and the family aspects of this book, and will definitely read anything else Angie Thomas writes.
Goodreads: The Hate U Give
The Upside of Unrequited by Becky Albertalli-4.5/5 stars- This book was my most anticipated read of 2017 and it definitely lived up to my expectations. It was not as good as Becky Albertalli's Simon vs the Homo Sapiens Agenda (one of my favorite books ever), but it was still an adorable and diverse read. I loved all the different relationships the characters had with each other (romantic, friendships, family), and all of the characters. The plot was not super original, but Becky put a really fun spin on it. I also really liked all the Simon cameos (especially the one with Martin's older brother and Julian at the end).\
Goodreads: The Upside Of Unrequited
Taming The Star Runner by S.E. Hinton-2.75/5 stars- I actually forgot that I had read this book before I was looking over my Goodreads recently read list. I read this book because S.E. Hinton, author of my favorite book ever The Outsiders, wrote this book much later in her career. There was nothing wrong with this book, it just had absolutely nothing that excited me or that made it memorable.
Goodreads: Taming The Star Runner
I'll Give You The Sun by Jandy Nelson-5/5 stars-This book was a reread for me, and I adored it even more than the first time I read it. I'll Give You The Star is a difficult book to explain, other than it is a beautiful story about friendship, family, and art.
Goodreads: I'll Give You The Sun
Alex and Eliza by Melissa de la Cruz-3/5 stars- I read this book solely because of Hamilton. I got what I expected out of it. A kind of cute, kind of boring, kind of eye rolling worthy story. It was really nothing special, and I probably would not recommend it to anyone.
Goodreads: Alex and Eliza
Six of Crows by Leigh Bardugo-4.5/5 stars- I originally read Six of Crows when it first came out, and I did not like it very much (original review). I then read Crooked Kingdom when it came out and loved it (review). So, I decided to reread this first book in the duology to see if my feeling changed. They definitely did. This second read, I loved Six of Crows. The characters were complex, the plot was heart stopping, and the setting was set up beautifully.
Goodreads: Six of Crows
---
Musical Musings
The digital recording of Newsies: The Broadway Musical came out in May, and I cannot stop watching it. It is such a fun and energetic show with some amazing actors (Jeremy Jordan, Ben Fankhauser, Kara Lindsey, Andrew Keenan Bolger, Ben Cook), dancing, and sets. I absolutely love the plot and all the characters too. I will have a review of this recording very soon.
I was actually in Bye Bye Birdie in these recent months, so naturally I have been listening to the cast recording nonstop. This is also a really funny show that was lots of fun to be in.
I also have had an obsession to listening to West Side Story lately. I have fallen in love with all of the music, and I also like the setting and plot of this story. My favorite cast recording is the 2009 version with Karen Olivo (it is on Spotify).
(Image from playbill.com)
I started listening to Tuck Everlasting mainly because Andrew Keenan Bolger and Ben Cook were in it. This is a really cute musical with a great score. I have never read the book this musical was based off of, but I probably will soon.
(Image from nytimes.com)
Something Rotten! is a hilarious musical about two brothers trying to compete with William Shakespeare, the bard of the Renaissance. I love listening to the cast recording, and try to catch all of the different musical references.
Just like the rest of the world, I fell in love with Beauty and the Beast again. Since March, I have been listening to an interesting blend of the original cartoon, the musical, and the new movie recordings.
---
Life And Blogging
Since it is the summer (finally!) I will have much more time to blog and read. I missed blogging during the many busy spring months of school and rehearsals. I am back though and ready to write better content than I wrote before I became busy.
I also have hit my one year anniversary! I wrote a post about it, so you can read all of my plans for my second year of blogging on Lucy's Literature!
---
Currently Reading: Tiny Pretty Things by Sona Charaipotra and Dhonielle Clayton