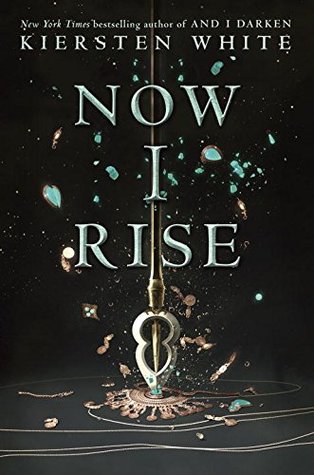 Now I Rise
Kiersten White
Delacorte Press
June 27, 2017
471 pages
5/5 stars
Spoiler Level: Spoilers for book one in the Conqueror's saga.
Book 1 Review: And I Darken Review
"Hold hands with the devil until you are both over the bridge. Or kill the devil and burn the bridge so no one can get you."
Lada has suffered much in her life. However, she has learned from it. No one will give her anything, and she has to fight for it. With her most loyal men, she left the Ottoman Empire and is moving to claim her throne as the rightful prince of Wallachia. She terrorizes all the countries she passes through, but she knows brute force won't win her the throne. Who would want to ally with a women? Lada really needs her brother, but he abandoned her for the sultan, Mehmed.
Lada is one of my favorite young adult female characters. Even though she is so brutal and does some horrible things, I can't help rooting for her. Unlike most female characters, her goals never change for the love interest. She also has developed much since the first book. She has grown more passionate about her mission and the people she cares about. Lada has been compared to characters such as Aelin (Throne of Glass) and Adelina (The Young Elites), however she is so much better. She was a show instead of tell character (we weren't always the told she was brutal and fearless, we could tell by her actions). She also cared about the people around her in a more realistic way than the two other girls she shares similar characteristics with.
"It was wrong, this weighing and measuring lives as though they were coins that could be spent or saved. He longed to be free of it all, to live among men seeing everyone as his brother, to view no one as his enemy."
In the Ottoman Empire, Radu will do anything Mehmed. Even when Mehmed asks Radu to go spy in Constantinople because the sultan longs to conquer the city. Radu obliges, and heads into the city with little intentions of forming connections with the citizens of Constantinople. However when he meets the ambassador, he is torn in between his loyalties to Mehmed and Constantinople.
Radu is a really sweet character, who is the exact opposite of Lada. He has a nice character arc, with his goals changing along the way. He questions the people he's always trusted and the plans that he has always had. The one thing that I do not love about Radu's character was that he mentioned Mehmed and how much he missed him every other page.
Unlike the first installment, Radu and Lada are never together in this book. They still thought of each other often and it was a nice development in their relationship. They also finally both seemed to recognize the positive aspects of each other. Radu longed for his sister's confidence and Lada wanted Radu's pleasant nature.
"In his time here, he had seen them be truly great, holding together a city against impossible odds. And he had see them commit atrocities while doing it. He respected them, and he hated them, and he knew the world would be lesser for their deaths"
The themes in Now I Rise were the importance of someone's life and how people were not always all good or bad. Both sides of these themes were explored in the two siblings. When Radu goes to Constantinople, he realizes that the people that he is fighting are not as evil as he was lead to believe. He also forms a close relationship with one of his enemies. Lada on the other hand sees one action of someone and determines the entire worth of that person from that one action. She even uses her little information to determine if the person deserves to live or not, or if they deserve her undying trust.
"I have met your sister, and I have met Mehmed. They love themselves and their ambition above all else. They love what feeds their ambition, and when it stops feeding that, the love will turn to hate with more passion than they could ever love with. "
This is a mutual opinion among many readers, but I really dislike Mehmed. I get what he does and why he does it, but he uses and manipulates Radu (and tries to use Lada). He really only cares about seizing Constantinople even though it hurts Radu (who does anything for him). A character that I wish we saw moreof was Nazira. Radu's wife was such a positive character that was smart and caring. I also loved her relationship with Radu.
The setting of this book was very vivid and it was easy for me to picture all of the different places that the characters visited. I also loved all of the different religious views of the different characters and countries.
Now I Rise had a very slow pace in the beginning, but it helped to let the plot, characters, setting, ect. to develop. After the first 150 pages, however, I could not stop reading (and read the last 300+ pages in one day). While reading this story it kind of felt like I was reading a fantasy instead of a historical fiction because it is so action packed.
Now I Rise was a very successful story that never suffered from second book syndrome. The characters have developed in a beautiful way, the plot is action packed, and setting is vivid. I cannot wait to read the third and final installment in this epic historical trilogy. Did you enjoy the second installment? What perspective did you like reading from better? Who was your favorite character? How did you feel about Mehmed?
---
Currently Reading: Strange the Dreamer by Laini Taylor