In about three days I read three young adult contemporary books, all of which I found to be okay. Those books were When Dimple Met Rishi by Sandhya Menon, Love And First Sight by Josh Sundquist, and Noteworthy by Riley Redgate. Since I read these books in such a short period of time, I didn't have complete notes for any of them. Therefore I have written short reviews for all three of these titles and am including all of them in this post.
---
When Dimple Met Rishi by Sandhya Menon
2.5/5 stars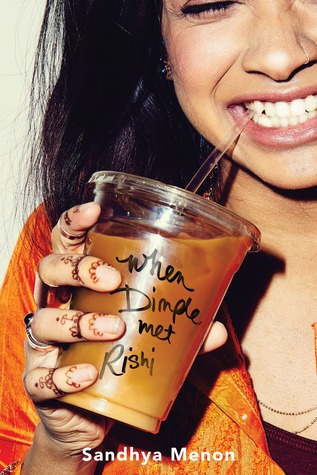 Dimple Shah knows what she wants, and it is definitely not getting married. Even though her mother really wants her to find the "Ideal Indian Husband", Dimple dreams of being a web developer. She doesn't think her family respects her wishes until the day they pay for her to go to an expensive program for aspiring web developers.
Dimple showed promise in the first chapter. A feisty girl with interest in technology and science? Sounds great! However that was as far as I got without not being able to stand her. She was completely unrealistic about everything, and gave no one any chances. She was rude to Rishi. She was rude to her classmates. She was originally rude to her roommate. She mentioned every two seconds that she didn't wear makeup and was therefore "not like other girls" and better than everyone because she wasn't rich. Dimple's character was also all over the place. I honestly can't give you one defining characteristic of her that wasn't rude. Also at one moment she was really annoyed that someone was pronouncing Rishi's name wrong, and the next she was correcting someone on how they pronounced their own name
Rishi Patel believes in tradition. So when his parents arrange a meeting place at a web developing program with his future wife, he is definitely on board. However when he meets Dimple, he is not sure that it could work out.
Rishi was a sweet character that didn't really have any special characteristics that made him stand out as a character. I did like him, but I just wish he wouldn't give in to Dimple all the time. He let her push him around (such as when he was originally going to have to dance in front of a lot of people for Dimple) and he did everything for her. I did like his brother and his relationship with him, but overall I was not impressed with either of the main characters in this book.
Apart from the fact that the characters were Indian and their was an arranged marriage aspect for the first thirty pages, this book was really unoriginal. It was a romance with mean girls. Their was a coding aspect to the story, but that was overshadowed by the stereotypical romance.
Overall the only part of this story that I liked was the Indian representation. Also despite all of its flaws, it was actually kind of fun to read. Therefore if you are just looking for a fun and romantic read and you don't mind a horrible  main character, then this may be the summer read for you. I just did not enjoy this story.
---
Love And First Sight by Josh Sundquist
3.5/5 stars
Will Porter has been blind his whole life, but he knows how to make his way around. He is finally going to a public high school for the fist time. On his first day, he meets a girl named Cecily who he quickly develops a crush on. Then when an experimental surgery to fully restore Will's eye sight presents itself, he realizes that adjusting to his new sense is more difficult than he could ever had imagined. He also notices that Cecily doesn't match how anyone told him she would look. Even though he knows that appearances don't really matter, he still feels very betrayed.
Just from reading the synopsis, I hated Will. I thought he was angry at his friends just because his girlfriend wasn't beautiful. However I was pleasantly surprised. Will was a sassy and smart character that had a very good reason for being mad at his friends. In fact it was a reason that I would never have thought of without having read this book. I could tell that Josh Sundquist did his research and brought awareness to what it might be like to be blind. And to suddenly be able to see again. I never considered that it would be hard to identify objects if you never could see, but it made a lot of sense.
Though I loved Will, none of the other characters really stood out to me. I actually had to look up the names of all of his friends and girlfriend. I didn't really care about them and they had no distinguishable personality traits. Two characters that I actually really loved were Will's parents. It was nice how much they cared about him and how much they were involved in his life (unlike so many other YA parents). It was also interesting to see how different there opinions of Will's surgery were.
Though this book was under 300 pages, it was still a full story that had just as much activity as a 400+ page contemporary. There was never an unneeded sentence in this story. My favorite part about this whole book was how much care Josh Sundquist put into each and every word in this book.
Overall I loved how this story made me think about what it would be like to be blind (or really having any disability). I also loved the main character and the writing in this story. However I was not impressed with any of the side characters or the solution to the conclusion.
---
Noteworthy by Riley Redgate
4/5 stars
Amazon Synopsis:
It's the start of Jordan Sun's junior year at the Kensington-Blaine Boarding School for the Performing Arts. Unfortunately, she's an Alto 2, which—in the musical theatre world—is sort of like being a vulture in the wild: She has a spot in the ecosystem, but nobody's falling over themselves to express their appreciation. So it's no surprise when she gets shut out of the fall musical for the third year straight. But then the school gets a mass email: A spot has opened up in the Sharpshooters, Kensington's elite a cappella octet. Worshiped . . . revered . . . all male. Desperate to prove herself, Jordan auditions in her most convincing drag, and it turns out that Jordan Sun, Tenor 1, is exactly what the Sharps are looking for.
There were quite a few characters in this story, and each and every one of them was fleshed out and realistic. Jordan had a really nice character arc of finding her confidence through being someone else. I also liked how she questioned herself often, and was not always sure of herself.
The other main characters in this book were the seven boys from the Sharpshooters. Each and every one of the members of this group had a very distinct personality and they all developed into being characters that I really loved. The one thing I didn't love was that we never found out why Trav (the leader of the Sharpshooters) disliked driving or what motivated anything he did.
Noteworthy was a lot funnier than I thought it would be. Though it does deal with some difficult or sad topics, it delivers it still manages to be a light and fun read that has me laughing. I did love how Riley Redgate explored these topics in such a realistic yet doesn't make it to heavy or depressing.
The main reason I read this book was because I thought it would be full of musical theatre references and be relatable. However it was not. It leaned more to the a capella side than the theatre side, which I didn't have a problem with. I just wish that there were more theatre reference because Jordan is  supposed to be a theatre kid.
Overall I thought that Noteworthy was a fun and realistic read about finding yourself and friendship. The characters were fleshed out and different and I loved each and every one of them.
---
What books from this post have you read? Did you enjoy them? I would love to know!
---
Currently Reading: Strange The Dreamer by Laini Taylor